By Paul Sbrizzi
Let's take a stroll down the crooked old memory lane of SLGBTdance, shall we? And peek in on some of the randy rainbow fare served up over the years by many-gendered alt-queers in the Slamdance trattoria.
Lady of the Lake (2003)
2003 was my first year traveling to Park City as a Slamdance programmer. The entire festival staff was shacked up at the sprawling Empire House, where the youngsters would stay up partying until 4AM as I lay in bed staring at the ceiling. It was a great time, though. My friend Gianna was the festival director that year, and it's not like we had favorites, but we just adored Michael Lucid. He was the friendliest, most unassuming guy, and his short puppet movie Lady of the Lake was so gorgeous, heartfelt and funny—a wordless parable of a young gay dreamer who comes to the big city and discovers all its many pleasures and perils. At the Filmmaker Happy Hour, Michael mentioned he also had a web series called Pretty Thingsss, so we put it up on the monitor and it was something completely different: a surreal, ahead-of-its-time comedy with Michael and his friend Amanda playing all the characters. Lady of the Lake didn't win any awards, so the staff got together to create an impromptu, decided-by-the-staff award called "The Rosebud" (which understandably raised some eyebrows in terms of our process). Pretty Thingsss had some serious interest from MTV, and while it didn't quite come together, Michael became a Slamdance fixture for many years.
Winner (2003)
In 2003 we also showed Winner, a funny and poignant improvised film by Stanya Kahn and transgender artist Harry Dodge, about a videographer who just needs a woman who won a cruise to say "thank you KCLU-FM" on camera. She parlays the situation into a video portrait of herself and her comically primitive artwork—stuff like a large red candle in a transparent blanket bag or a big brown bean-shaped object taped to a cushion. Kahn pulled astonishingly quotable monologues out of the ether, and the vulnerability of her performance is a thing to behold.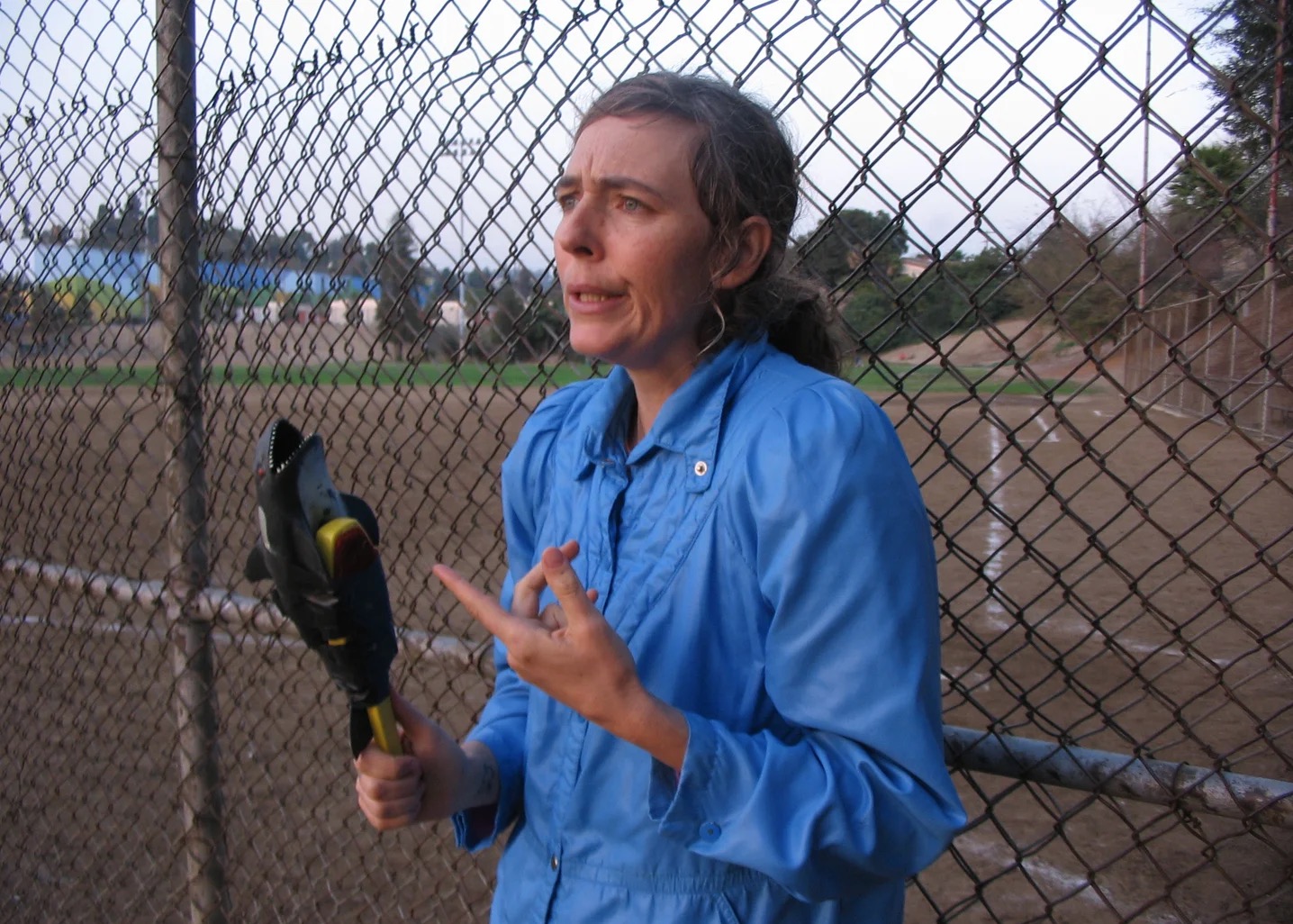 Why the Anderson Children Didn't Come to Dinner (2004)
The following year, as an over-eager committee captain, I went sniffing around in the boxes of "killed" VHS tapes (back then our shorts submissions were in the hundreds rather than the thousands) and found one that looked intriguing called Why the Anderson Children Didn't Come to Dinner. Michael Lucid had actually given it a high score but somehow it hadn't made the shortlist. It was a mesmerizing, musical theater of pain with a wild, post-modern-suburban esthetic. Writer/director Jamie Travis came to the festival with his DP Amy Belling and editor AJ Bond and we all became friends. My friend, Sarah (who was on staff and would later become the festival's programming director), became besties with Jamie, whose birthday, amazingly, is her half-birthday.
The Virile Man (2004)
The Zellner Brothers, who are (sadly for them), not gay at all and are now big Hollywood A-listers, made their Slamdance debut with The Virile Man, in which David Zellner plays a married dude who calls a (real) psychic from inside an actual closet looking for reassurance about his manliness. It's a brilliant, slow-burning character study—a comedy about gay panic served very dry. The Zellners put on very convincing Australian accents for their Q&A. They and Jamie Travis both ended up having multiple films at Slamdance. One year, they shared a condo and David brought "knife car," his own invention, and Jamie ended up with a big cut on his hand for a souvenir. After a couple years at Slamdance, the Zellners made a wonderfully strange and abstract film called Flotsam and Jetsam, which to this day is the most improbable film for us to lose to Sundance. But yeah, Bob snapped it up and they crossed over to the other side, but we still love 'em.
Dirtyglitter 1: Damien (2005)
In 2005, Slamdance had a big commercial breakthrough with Mad Hot Ballroom selling at the festival and becoming a hit at the box office. It was also the year ofDirtyglitter 1: Damien by Aron Kantor, an amped and lysergic spectacular about a methed-up hustler skidding across a night of filthy sex, art and murder. "I think I need a silent letter in my name," muses Damien, out at sea with his fuck buddy Si-Moan and a dead body rolled up in a rug, as the film draws to its lovely, poetic conclusion. Aron was, and is, a lovely, poetic and charming young bear and ten years later, at Slamdance 2015, his film Deviance ended up winning a Sparky for best Anarchy film.
The Mallorys Go Black Market (2007)
In 2007, Slamdance got its logo re-designed by Shepard Fairey and Allan Moyle's Weirdsville was the opening night movie. For the short before Weirdsville, we snuck in a quirky little film that was gay in all but its characters and story, The Mallorys Go Black Market by Minneapolans William Scott Reese and JoEllen Martinson. The big sister on Family Ties was the style inspiration for three driven young New York women with a scheme to market dubiously glamorous retro fashions to Russians. A series of amazing fashion labels was the film's leitmotif; the Mallorys' holy grail was a black denim jacket with the legendary "Foxy O'Clock" label. "We're gonna be late!" "I WANNA be late!" See it for yourself:
Mariquita con Perro (2008)
I love how, in a time when we're all rightly falling over ourselves to canonize our gay martyrs and add more Alpha-Bits to LGBTQ+, gay filmmakers have also brought to life, shall we say, "flawed" gay characters. And no one has done it better or more hilariously than Vicente Villanueva in his 2008 Slamdance film Mariquita con Perro ("Fag with Dog"), a portrait of the host of a trashy Spanish reality-talk show who gets into a fight with his maid and comes unravelled as success goes to his head. "I have to have new clothes for each program.... I have very high standards," he says, "I criticize others so much that I have to be above them."
Woman in Burka (2008)
2008 was also the year when Jonathan Lisecki swept into our lives and tore up the shorts program with Woman in Burka, his hilare satire on the entertainment industry's cheap and relentless exploitation of the post-9/11 Middle East crisis. It's dark AF and kind of touching and must have been made for nothing. Jonathan worked in casting and worked his charm to bring on Sam Rockwell and Kerry Washington, as well as Sarita Choudhury in the lead role.
Vapid Lovelies (2009)
I'm starting to notice that there aren't a lot of earnest and heartfelt coming-out stories on this list. And honestly, this was supposed to be a look back at LGBT shorts in Slamdance but I've ended up talking almost entirely about heightened-reality comedies by and/or about gay men. I know, I get it. I just... I'll think about it later, I guess. So, continuing in that vein, in '09, Frank Feldman brought his sassy Salt Laker charm to Park City with Vapid Lovelies, about PJ and Skylar, a pair of spectacularly shallow and overconfident young Salt Lake homosexuals preparing glamorous outfits for their trip to Sundance. "Nobody goes to Sundance for the movies," exclaims Skylar. Frank and his stars Chris Lemon and David Luna were the toast of Slamdance and they ended up winning the Spirit of Slamdance award.
Redmond Hand, Private Dick (2017)
In 2010, I left the shorts committee and went to sit at the grown-ups table of Narrative Features; I now observe the shorts program with benevolent detachment. But I just can't not give a holla to Redmond Hand, Private Dick from Slamdance 2017. It's a candy-color-coated film noir written by Jason Kreher and directed by The Selby, starring Felicia Pearson from The Wire and Katya Zamo from RuPaul's Drag Race. A black lesbian private dick goes on a quest for a femme fatale's stolen cactus and ends up at a tartly caricaturized Silverlake party. One overheard line: "If my son turned out gay, I just... I would want him to be a top." The film is actually wall-to-wall great lines—a visual sugar rush cut with tangy cynicism as it drifts into the surreal.
It has been a pleasure to re-visit these misty, watercolor memories, to travel back to a time before the Canon 5D and the shallow depth of field imperative: the everything-in-focus mini-DV era, when a special creative freedom and improvisational spirit ran free through the ever-verdant meadows of Slamdancia.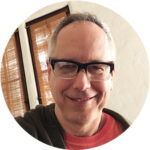 Paul Sbrizzi is a writer, filmmaker, graphic designer and film programmer. His gay sex club reverie It Dwells in Mirrors screened at Slamdance 1999 and he has programmed voraciously for the festival ever since, and served as its art director since 2005. He has been the programming director for the Mammoth Lakes Film Festival since it was founded in 2015. He continues to write and direct—most recently the droll short comedy Buffalo Boys. He writes about music for tinymixtapes, has served on festival juries, and has programmed for Outfest, L.A. Film Festival, AFI Fest and others.