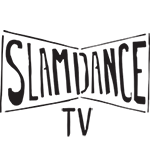 Directed by Saad Qureshi. Created with Max Wilde, Donald R. Monroe, Alison Donohue, Jake Bellew, Spencer Bang, and Steven Maier. In the fall of 2017, seven friends quit their jobs and got together for 10 days to make sure each other felt loved and happy. The result was A Great Lamp, a film about two sad vandals and an unemployed loner waiting for a rocket.
Director Saad Qureshi put together a North Carolina dream team for his debut feature. Multi-talented Max Wilde edits and plays the lead role, a gender-fluid vandal and grandma-lover; Spencer Bang is his perfect foil, a vulnerable boy-man obsessed with an upcoming rocket launch; Steven Maier is compelling in a parallel storyline about the pain and pleasures of the secretly unemployed. Donald Monroe captures it all in stylish, imaginative black and white. It's a dazzling film to watch, made by a group of tight friends, and its heart shines through. Why stand in line at Blockbuster when you can watch this movie right now! — Paul Sbrizzi, Slamdance Programmer

Read more about philosophy behind the making of A Great Lamp in Max Wilde's guest blog, "We Stole A Movie."

Slamdance TV highlights a short film from the festival every month. Check back soon for our next featured film!