Grand Prize & 1st Place Feature
Sweet Sixteen by Joyce Sherrí
Sweet, a 15 year old girl, tries to convince her parents to throw her a big sweet sixteen birthday party, but money and family problems lead Sweet down a destructive path.
Virginia native writer-director, Joyce Sherrí, received an MFA in Filmmaking from New York University in 2016 and is a recipient of the Spike Lee Production Fund for her short film "Forever." She's also a fellow of the inaugural WGA Made In New York Writer's Room. Her most recent works "Beauty" and "Through The Ages" are of the southern gothic-fantasy-horror variety and paved the way for a staff writing position on two upcoming Netflix series.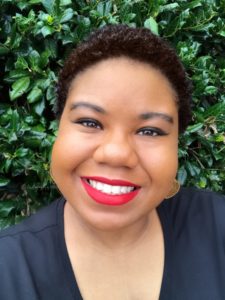 "Black people are not a monolith. We have experiences in life that don't always revolve around the fact that we are Black and how difficult that can be...There is more to us than racial trauma. Sometimes we just want something as simple as a first kiss or a sweet sixteenth birthday party."
"In the South, you don't talk about grown folks' business with a child which meant that when we were evicted from our home for the umpteenth time and forced to live in a homeless shelter or a motel or my grandparent's garage, no one ever talked to me about it or bothered to explain what was happening. I didn't ask questions because I assumed my parents had our lives under control. They didn't, and it took me years to realize that. Sweet Sixteen is a coming-of-age story that speaks to that realization."
2nd Place Feature
Funeral Season by Jake Hirsch
As a famous children's book author, 75-year-old Helen has been able to spend her time in the world of young Juniper Jean, but as the funeral invitations pile up, she must figure out one last book idea.
Jake Hirsch is a graduate of the film and television program at NYU's Tisch School of the Arts. His short film, RICHARD, about Richard Nixon's bid for high school student body president, was the recipient of the Akhtar-Bhutta grant and screened at the 2020 NYU Alumni Social Impact Film Festival. His feature screenplay FUNERAL SEASON was selected by the NYU Production Lab for their Development Studio, where he was mentored by Tony Gilroy, Terence Winter, and Kasi Lemmons.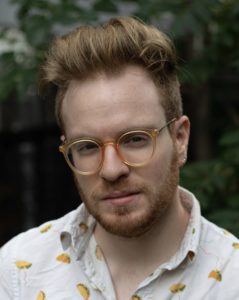 "I'm always writing down interesting dialogue I hear in the real world. I overheard in Brooklyn a man talking on the phone say, "We don't need to fight right now, I just finished praying." I hope to one day incorporate that line into a screenplay."
3rd Place Feature
As You Wish by Suhashini Krishnan
Two Indian women from wildly different upbringings switch bodies after making a fated wish at their high school reunion.
Suhashini Krishnan is a South Asian writer whose writing has been recognized by the Academy Nicholl Fellowship, Slamdance Festival, Atlanta Film Festival, Nashville Film Festival, and the Blacklist. She lives in California with her husband and dogs.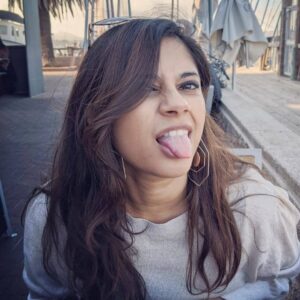 "I wanted to write a comedy with dramatic elements that explored the ideas of family, culture, and individuality from a perspective I hadn't seen in film before, and I liked the idea of subverting the body swap genre to reflect someone discovering and understanding their own identity, as opposed to someone else's." 
What screenplay inspired you to write? "I would like to give a clever, measured, poignant answer but I was eleven and it was Fight Club."
1st Place Horror/Thriller
Our Gods Within by Alex Luprete
An ailing wife struggles to care for her dying husband after he contracts a space-borne illness while working on a decommissioned space elevator that bankrupted their small town.
Alex Luprete is a writer and filmmaker who uses sci-fi as a lens to explore humanity. He wrote his first feature-length script while studying Biology and Psychology at the University of Texas in 2006. Since then, he's written dozens of scripts - spanning from cerebral sci-fi to adventure comedies to absurdist comedic shorts. Currently, he works as a commercial producer and editor in Austin. He's developing his most recent script, OUR GODS WITHIN with the intention of directing his first feature film.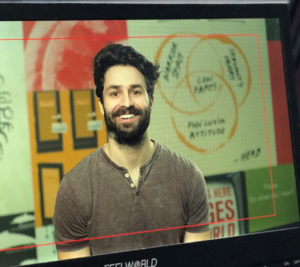 "When I set out to write this story I never meant for it to be a true "first contact" sci-fi film, but more a film about grief and bereavement told through a sci-fi lens. All the crazy sci-fi elements, the space elevator, the body-altering parasite, the ratcheting paranoia are all just mechanisms that serve the theme, which [in my opinion] is the emotional struggle we all endure when faced with the loss of a life partner."
2nd Place Horror/Thriller
Dying on the Pass by Jackson Birnbaum
A suicide of an upscale restaurant's head chef sends an ambitious line cook down a spiral of drugs, madness, and murder.
Jackson Birnbaum is a writer and the frontman of legendary fake band Scumbag Rumble. Originally hailing from Santa Fe, New Mexico, he now resides in Glendale, CA.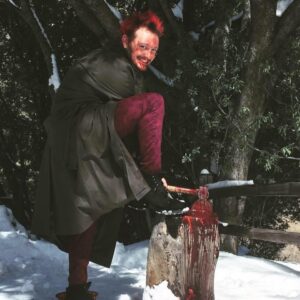 What inspired you to choose this subject? "The writings of Anthony Bourdain, as well as the frustrations of trying to write something decent in the midst of a depressive episode."
"The thought that what I write might resonate with someone else is a sublime and emotional experience."
3rd Place Horror/Thriller
Goodbye Lyrics by Daniel Russell
A young widower seeks therapy to deal with paralyzing grief, convinced that a spirit is haunting him and that his life is under threat.
Daniel Russell was born in the former Yugoslavia as "Goran", and adopted by American parents. He grew up in Ohio, where it snowed a lot. He then went to school in Chicago, where it snowed a lot. He eventually made the cross-country drive out to California. (Your move, snow.) He works professionally as a video editor and story producer in Los Angeles.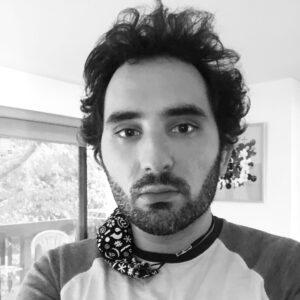 "Writing this script has not exactly been an effortless undertaking. I first wrote it as a short in 2011...Ultimately, the project ended up a little too ambitious for my (very minuscule) budget. The project stayed on my mind, though, and in 2015 I adapted the short into a feature. It was a disaster. I completely gave up on it and shoved it in a folder called OLD STUFF on my desktop. Four years later, the world was quite a different place, so I decided to give it another go. This time, I would write the script for myself. I might not even show it to anyone. This mindset helped me figure out what I was trying to do."
"Goodbye Lyrics is, at heart, a ghost story. We're all haunted by something. Perhaps it's a memory, or a sense of guilt, or a missed opportunity. Or maybe we're just haunted by a person that we miss. I think the world is always in need of a good ghost story."
1st Place Short
The Peregrine by Justin Giddings
As elderly man Howard and his adult daughter Monica prepare for him to move into a senior living home, he begins a mystical transformation into a bird-like creature, as a watchful Peregrine falcon eyes him from outside his window.
Justin Giddings is a classically-trained actor who got tired of waiting for permission to be creative and turned to filmmaking to continue his exploration of the human condition. His films have won multiple festivals around the globe and have received distribution with companies like Gaiam TV and Gunpowder & Sky. He's also an international speaker & teacher on crowdfunding having raised over $6 million for indie film projects through his company The Kickstarter Guy.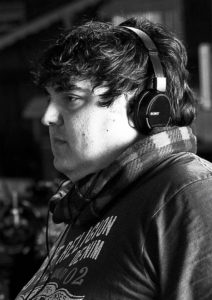 "This story was inspired by the passing of my grandfather Howard Hart. He was one of the most decorated CIA field agents (read: spy) in the agency's history and had a profound influence on my life and worldview. I didn't get to say goodbye before he died, and so when he passed, this short film poured out of me as a way to say those unsaid words. His life was one of adventure and honor, but the injuries of his profession had ravaged his body and slowly stole his life from him. I decided to shift the narrative a bit to speak to his legacy by giving him a grand send-off in the form of this film." 
2nd Place Short
Youth Rejuv by Katherine Voigt
The year is 2057 and while school shootings are the norm, a saggy neck isn't.
Katherine Voigt is a Los Angeles based screenwriter who tells stories that challenge what society deems comfortable. Her controversial feature script CRAVINGS is ready to be made, so give her money. Katherine is looking for representation so that she can get writing jobs instead of working at restaurants. Katherine Voigt does not enjoy writing in the third person. Slide into her DMs for more info.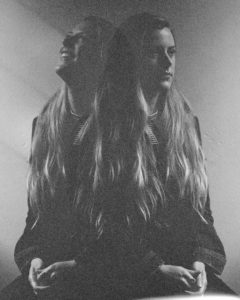 "The initial idea of Youth Rejuv started with the shock of the incessant school shootings in America and the failure of our government to do anything to prevent them. It was when I began recognizing my own numbness forming as the shootings were happening nearly daily, that the story began taking shape. If we can hear about children being murdered at school and immediately put it out of our minds to go eat brunch and post pictures of our food...what else are we capable of?"
3rd Place Short
How to Meal Prep During a Famine by Lindsey Ruggles
When a global famine strikes, a young woman must rely on others to survive.
Lindsey Ruggles is a Los Angeles-based writer and director. Her interest in using technology as a tool for narrative storytelling has led her to work in a variety of media, including theater, film, tv, and virtual reality in Boston, New York, and Los Angeles. Lindsey is thrilled to be included as a finalist in this year's screenplay competition and looks forward to moving HOW TO MEAL PREP DURING A FAMINE into production!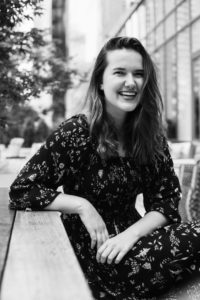 "For as long as I can remember, I have pulled away from all things horror--I never watched horror movies growing up, I didn't read scary books, and I could rarely get through a ghost story. So when I sat down to write my first screenplay, I knew I wanted to start there because I felt least prepared for it. I figured if I could write a horror short, no other genres would feel too daunting."
Have you ever used a piece of dialogue that you've overheard in real life? What was it? "Yes! I once overheard someone say, 'Childhood sets you up to believe that blue raspberry is going to remain a pretty major player in your flavor palette as an adult. Life is full of small disappointments like that.'"
1st Place TV Pilot
Lifeline by Meredith Casey
Lifeline is a serialized dark comedy about a depressed young woman from a dysfunctional family who has to do community service at a suicide hotline after her own suicide attempt goes hilariously wrong.
Meredith Casey is a writer, stand-up comedian, and actress born and raised in New Jersey and based in Los Angeles. Meredith has been writing and performing stand-up comedy for over 10 years. She has performed all over the country, as well as in London. Meredith made her acting debut in the critically acclaimed feature film, Greener Grass. You can see her now in the short film Immortal, showing virtually at film festivals all over the country. You can see her next in the feature film The Beta Test coming to theaters in 2021. Meredith is a proud alum of Rutgers University, The William Esper Acting Studio, and The Upright Citizens Brigade Theater.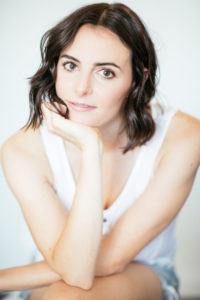 "This show is based on a dark time in my life when I called a suicide hotline. I spoke with a woman named Beth. She was kind and listened. I told her things I had never told anyone. I was baring my soul to a complete stranger, sharing my deepest, darkest demons. And then right in the middle of all that intensity, I heard someone in the background of the suicide hotline yell, "WHO THE FUCK ATE MY EGG SALAD SANDWICH?" I laughed so hard it saved my life. It turned out that Beth ate the egg salad sandwich." 
2nd Place TV Pilot
Below the Fold by Kevin Wolfe
A chronicle of the early roots of the LGBTQ movement in 1950s Los Angeles.
Kevin Wolfe cut his teeth writing about indie, punk and art rock for Time Out NY, PopMatters and Paper Magazine. He parlayed music criticism into DJing and co-created the influential Brooklyn indiepop party, Mondo, which kept music nerds dancing for over a decade. His scripts have placed in Final Draft's Big Break, Seriesfest and IFP Episodic Lab. Kevin has finally left his criminally below market East Village walk-up to relocate to Los Angeles.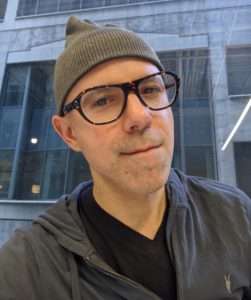 "In college, I found myself through queer activism. And for years, I held Stonewall as the seminal event in the history of the LGBTQ rights movement. While Stonewall is obviously a massive watershed moment, when I learned about the Mattachine Society I became enthralled with the idea of exploring this gay secret society in the 1950s that really started it all." 
"Below the Fold is a weird project. It's historical, it's queer, it's obscure and it's all about the corrosiveness of bigotry and how that damage ripples out to everyone it touches. For the script to make it this far means Slamdance gets all of that. So, in a year where injustice has been one of the key themes, having this project about the thorny proposition of fighting for what's right make it this far is deeply moving and absolutely thrilling."
3rd Place TV Pilot
Mourning After by Rikki Bleiweiss
At her own funeral, Rosie Rifkin awakens in her coffin after not actually dying. Now, to spare her mother's feelings, she must hunt down her lost suicide note.
Rikki Bleiweiss is an MFA screenwriter at the University of Texas, originally from Houston. She had a passion for historical and legal research—until in college, she abandoned all of that to become an artist, naturally. Rikki uses her background to craft unique, funny stories with meaningful themes. If you're on Twitter, you may have seen her popular satirical KILLER WRITING ADVICE series.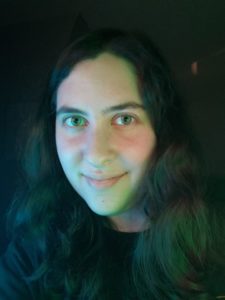 "It's funny. I wrote the bulk of this script after about a month in quarantine, when it felt like my life was falling apart, alongside the world itself. The original idea came about because I had heard everyone talk about "the new normal" so endlessly—like on a social level, we didn't know how to process some kind of big reveal that the world has been uglier than we thought all along."
"Think about the day after someone dies. Isn't it weird when you get home and see their stuff is still there? That it didn't vanish with them? That you still have to go to work? That your life continues on, while for you time stands still, and you cannot conceive of ever moving on? I wanted to write about this type of grief. Specifically, the unnatural feeling of the day after. The "new normal.""
Slamdance Screenplay Mentorship Award
Kinda Blue Burning Bright by McKinley Belcher III
In the wake of his friend's death, Tiger, a black homeless Renaissance man tries to make sense of the world around him and find his artistic voice.
McKinley Belcher III is an Atlanta, GA born black queer actor/writer, who currently lives in NYC. Best known for playing Agent Trevor Evans in Netflix's Ozark and Broadnax in Showtime's The Good Lord Bird. His first love has always been theatre, he's appeared on Broadway and off-Broadway. He's written a series of columns for backstage.com and has an MFA from USC School of Dramatic Arts and a BA from Belmont University.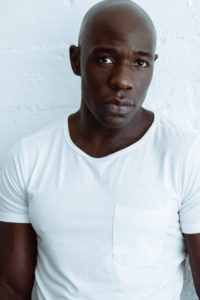 "The screenplay is not autobiographical, but it is still somehow full of things that have happened to me, people I've known, and real-life springboards that I've used as a creative launchpad. I am a black man in America. I really believe, at its core, this screenplay is a portrait of what it is to be Black in America now. I think it captures our unique and tortured relationship with the police, skin color, queerness, masculinity, fatherhood, learning to love (both in the romantic sense and the reflexive) and what it is to harness the power that can exist in embracing one's heritage and self. I've spent a lot of time absorbing all the energy around Black Lives Matter and the social unrest that is ever-present in this moment. I've lived some unpleasant and abusive interactions with police myself. As a creative, I've been managing this need to speak and create. I'm constantly stepping toward this need to reconcile my own experience of blackness with the images that are pervasive in the media, acknowledging that the two are often not the same and rarely have much overlap. To me that means there is a void. This screenplay is born of all of that need. Need in the truest sense of its meaning."