On behalf of our entire Slamdance team, I am writing to extend our sincerest gratitude for your participation in the AGBO+Slamdance DTLA Summer Showcase. Your presence brought an extraordinary and dynamic dimension to the event, infusing it with the best energy we could have asked for. Through your attendance, the event not only underscored the unity within our community but also highlighted its vitality.
At the core of Slamdance lie inclusivity and accessibility, both of which were epitomized in your presence. Experiencing these values alongside you enriches our mission. Our Slamdance volunteers were absolutely incredible and our gratitude goes beyond saying! We want to extend a deep thanks to each of our ASL Interpreters for their hard work and grace. We want to thank ATIAN Gin, Blackmagic Design, Coverfly, Final Draft, and Unity Coffee for their generous support and collaboration that made the success of our event possible. We also want to thank our great partner AGBO, without whom the Showcase would not have been possible.
Your support and attendance made the immense effort we put into this event feel easy. Once again, we extend our heartfelt gratitude for contributing to the unequivocal success of this showcase.
Warm regards,
Taylor Miller
Festival Director
P.S. Your generous donations are essential in ensuring the continuous presentation of our year-round programs. We kindly urge you to consider contributing!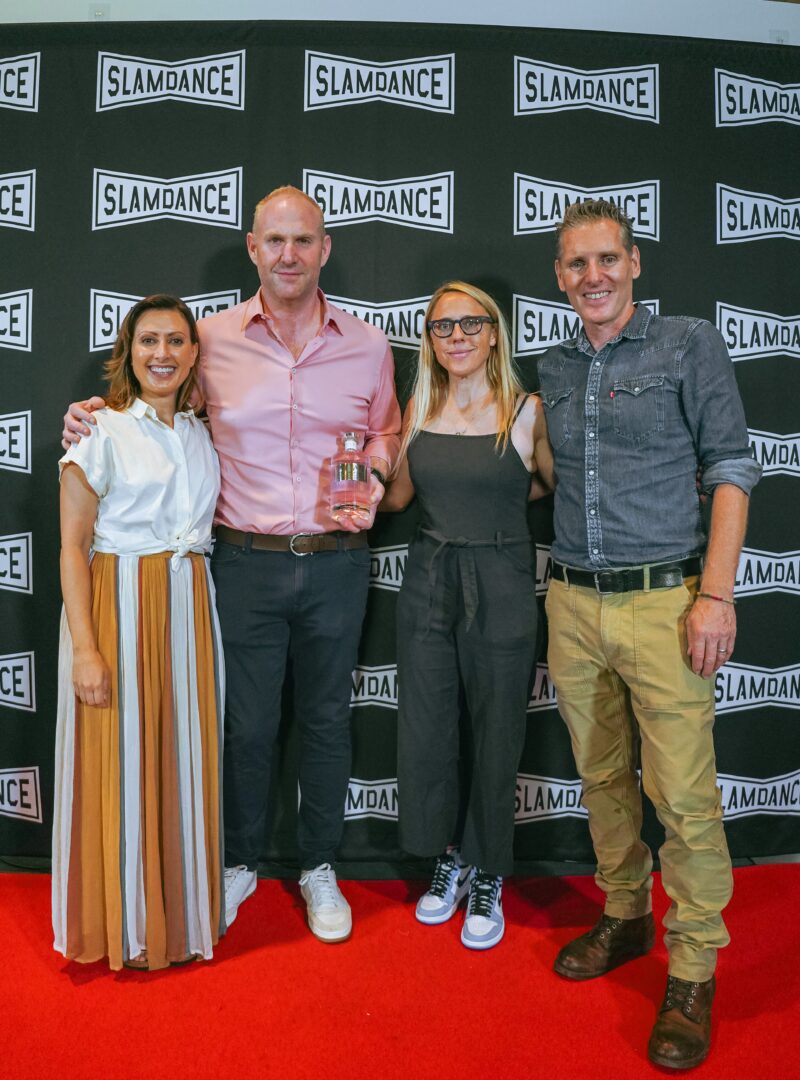 Angela Russo-Otstot (AGBO Chief Creative Officer), Brett Schmulian (ATIAN Gin Founder), Taylor Miller (Festival Director), Peter Baxter (Slamdance President and Co-Founder)
An award winning shorts program that pushes visual storytelling to the edge with a focus on L.A. based filmmakers.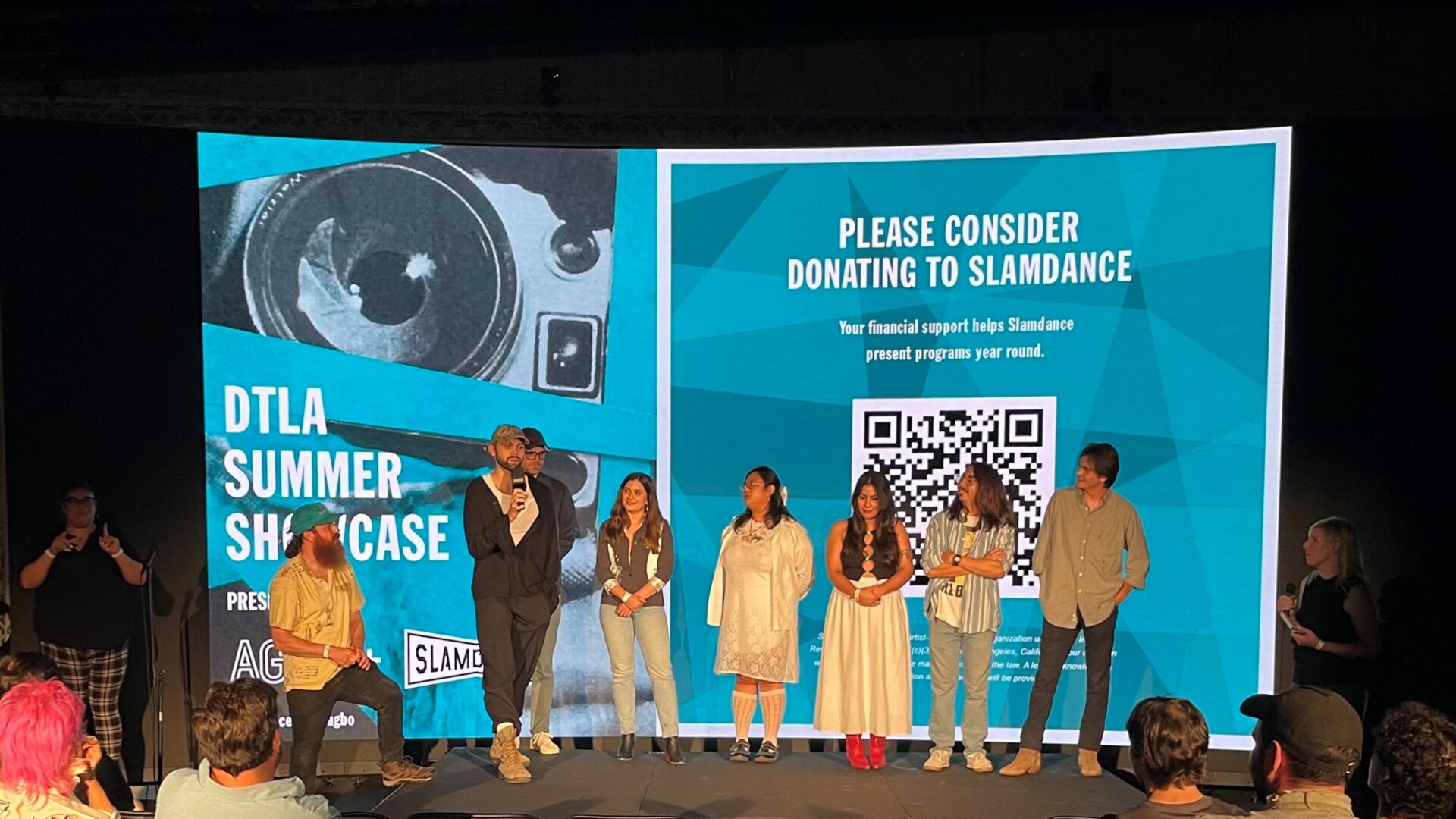 "Our opening night shorts program SHORTWAVE was explosive! In true Slamdance tradition, we kicked off our AGBO + Slamdance Showcases with a diverse collection of shorts that pushed visual storytelling to the edge. As audience members and filmmakers alike stepped onto the Visual Creatures motion capture stage (on the AGBO campus) they were in awe, as the films played on their stunning LED Wall. All night the energy was electric from start to finish. It was fully apparent that this was just the beginning of something truly important for the independent film community at large and locally here in Los Angeles." - Michael Morin / Festival Producer
Hubbard's
Directed by Kevin Ralston
Reality Isn't Good Enough
Directed by Rashayla
Lollygag
Directed by Tij
2023 AGBO Fellowship Winner
Hot Dogs!
Directed by Frank Volk
Animation Grand Jury Winner
Sidewalk Artist
Directed by Brandon Rivera
Narrative Short Grand Jury Winner
This program recognizes creators using new and emerging mediums and future storytelling has no boundaries.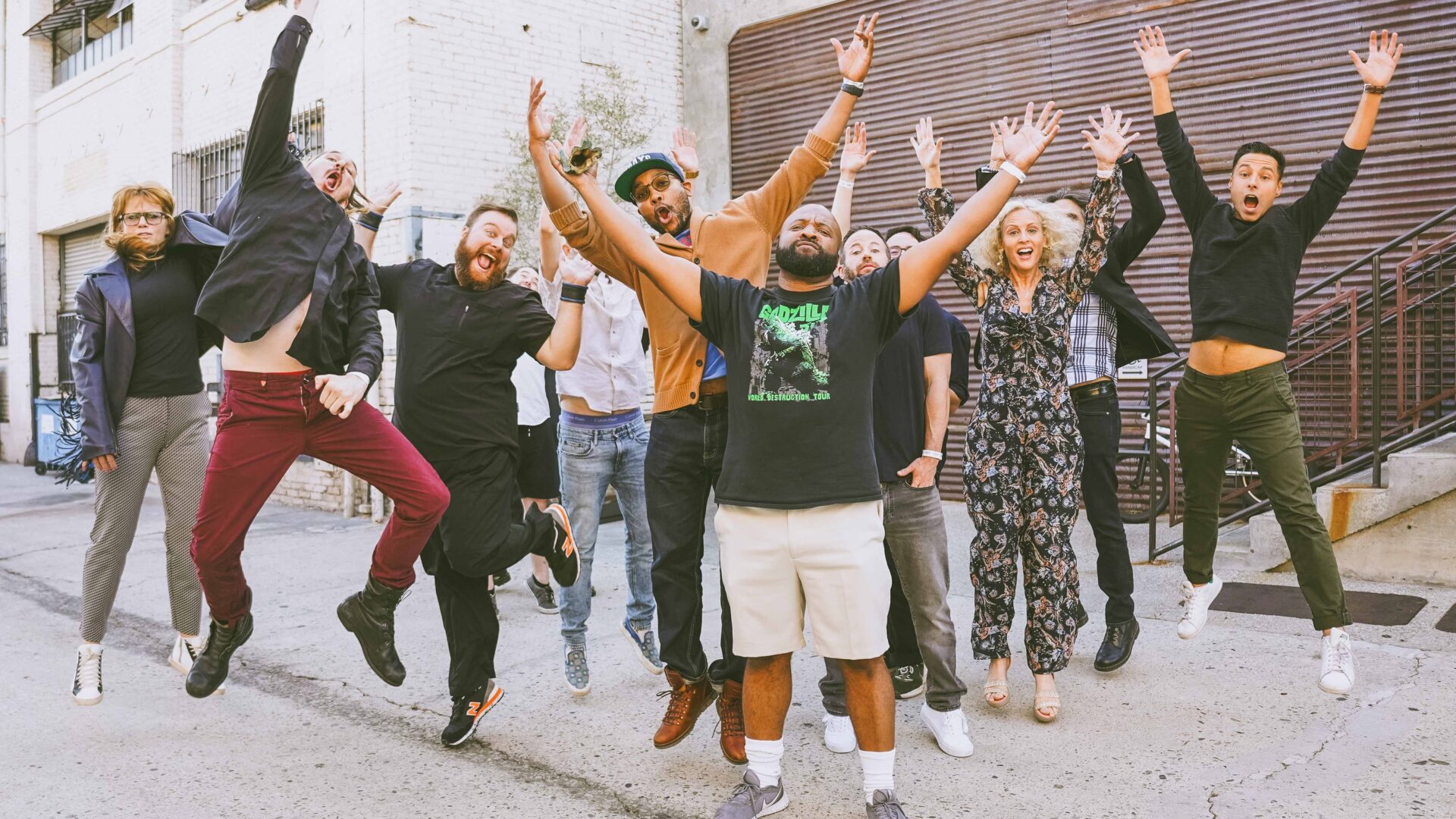 "This year Slamdance DIG continued its mission by presenting diverse artists from a wide array of unconventional digital storytelling formats to a packed house on The Visual Creatures motion capture stage at the AGBO campus. This space was the perfect setting to demonstrate the ways that new technology can empower artists, but at DIG we don't shy away from controversy. A.I. will change the creative landscape for thousands of writers, actors, and digital artists. Some embrace it, others fear it. DIG put this debate front and center with a discussion panel consisting of traditional creators now working with artificial intelligence, a perspective not often heard. From psychedelic VR visions to augmented reality dance performances, our DIG x AGBO Summer Series event showcased the limitless creativity of new media creators!" - Dekker Dreyer
A curated program of films by and for creators with visible and non visible disabilities.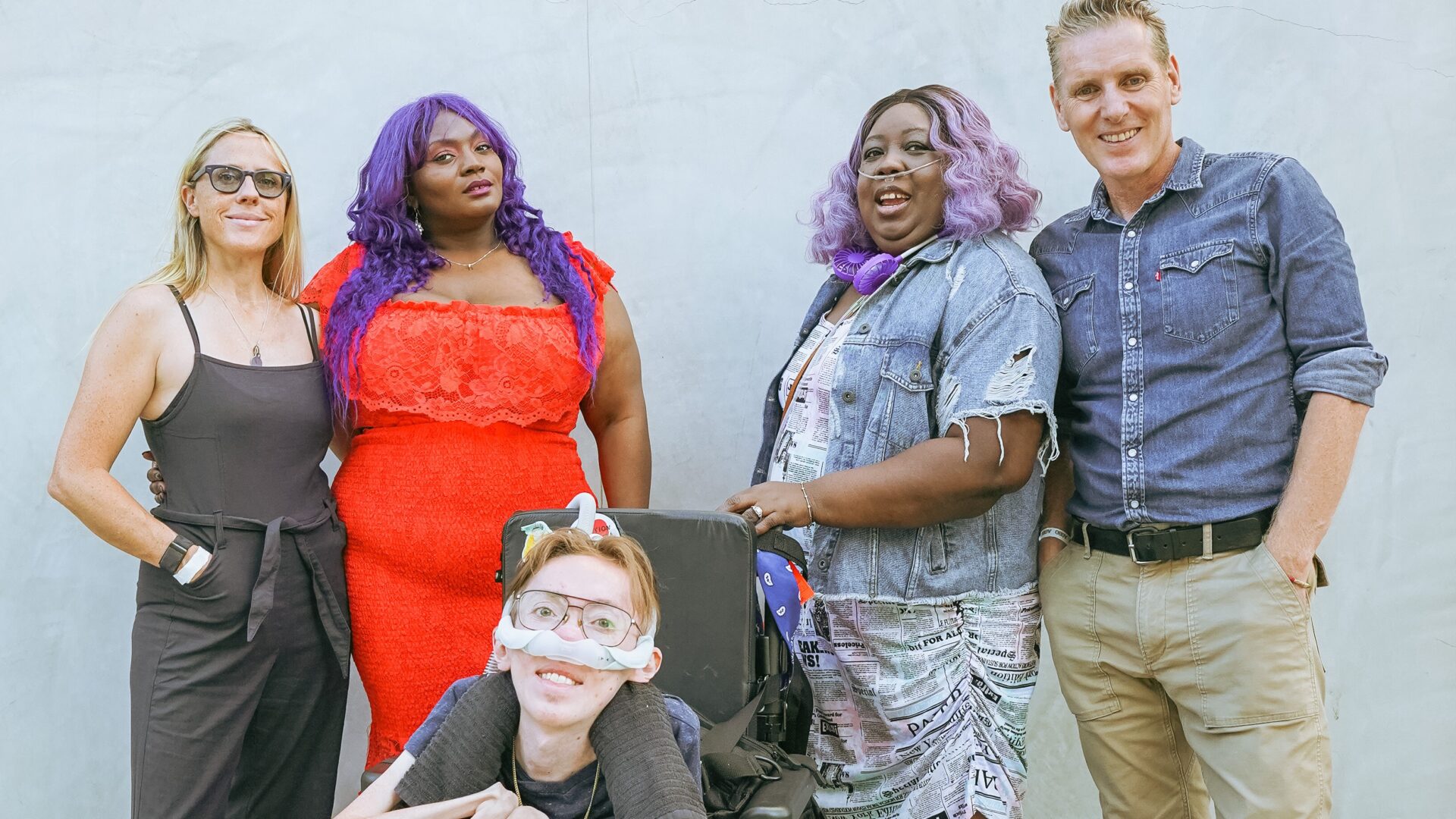 "UNSTOPPABLE stands as a beacon of immense importance within the rich tapestry of our creative and cultural storytelling landscape. AGBO's support has been extraordinary. Our showcase transcended mere theory, making inclusivity a vibrant and tangible reality. Closed captions painted words with vivid strokes, breathing life into dialogue. Thanks to ATIAN Gin, we had the gift of ASL interpreters for the entire showcase. They transformed silence into an eloquent symphony. Our hearts were full that night and every night. We don't take such things for granted over here.
UNSTOPPABLE was a profound exploration of our shared humanity, where, for some, it marked the first in-person meeting since the pandemic upheaval. In the heart of Downtown LA, UNSTOPPABLE not only illuminated the way forward but celebrated the enduring power of storytelling and the Unstoppable bonds of human connection." - Taylor Miller / Festival Director of Slamdance
A new stand-up comedy showcase celebrating seven emerging comedians, selected and hosted by Slamdance Alum & Ambassador of Comedy Kristian Mercado.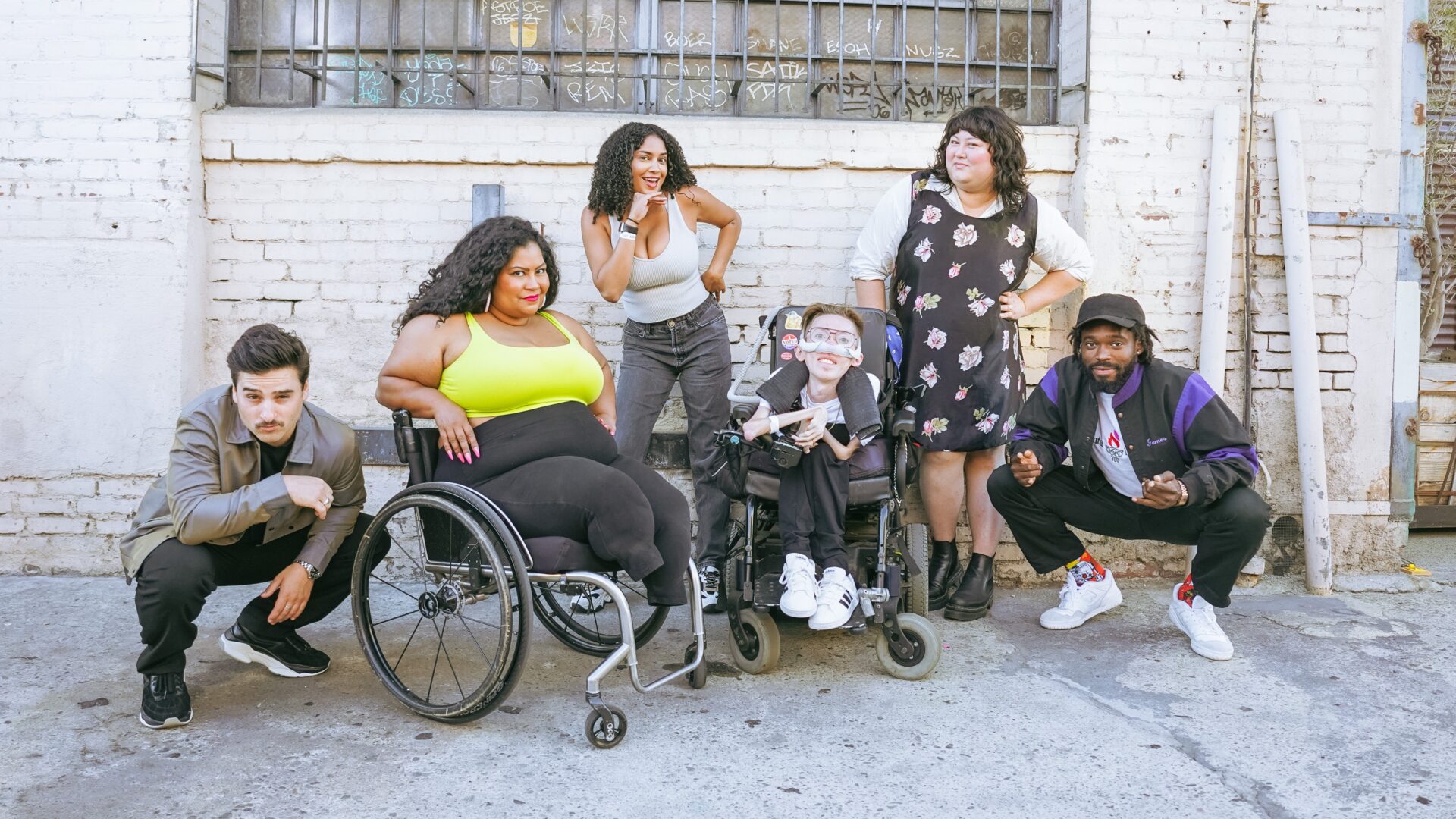 "When Slamdance and AGBO teamed up for the inaugural Punch Up stand-up comedy event, the result was an explosion of laughter! With a house packed to the brim, attendees were left roaring. Imagine the raw indie charm of Slamdance mingling with AGBO's creative flair, into something truly special. If this event was any indication of what's to come, comedy and film fans better buckle up!" - Kristian Mercado /Ambassador of Comedy
Nataly Aukar is a Lebanese born and raised stand up comic based in NYC. She talks about her past and present lives, how one affected the other, her family, dating, her sexuality and her fears.
Nori Reed is a LA based comedian, writer, and actress who wrote for Disney's Raven's Home, creating Disney Channel's first-ever live action trans character.
Yedoye Travis is a standup comedian, actor, and writer from Atlanta, GA. He has appeared on TBS, Comedy Central, CBS, and Netflix and written for MTV, IFC, and more.
Sasha Merci is a Second-generation Dominican American comedian, actress, and digital creator. She can be seen on her series Like, Subscribe Dimelo (FUSE), and in Group Therapy (COMPLEX).
Joey Dardano, Brooklyn-Based comic, actor and writer. Half-Cuban, Half-Italian, Joey can be seen on HBOMax, AmazonPrime, and the upcoming 21st season of WildNOut*
Danielle Perez is a comedian, actor, and writer whose work emerges from the intersection of (dis)ability, race, culture, gender, sexuality and so much more.
Steve Way is a comedian, writer, and speaker. He was born with Muscular Dystrophy and is an activist for disability rights. Steve can be seen in the Hulu show Ramy.
A day of screenplay workshops formed and led by Slamdance alumni dedicated to emerging screenwriters.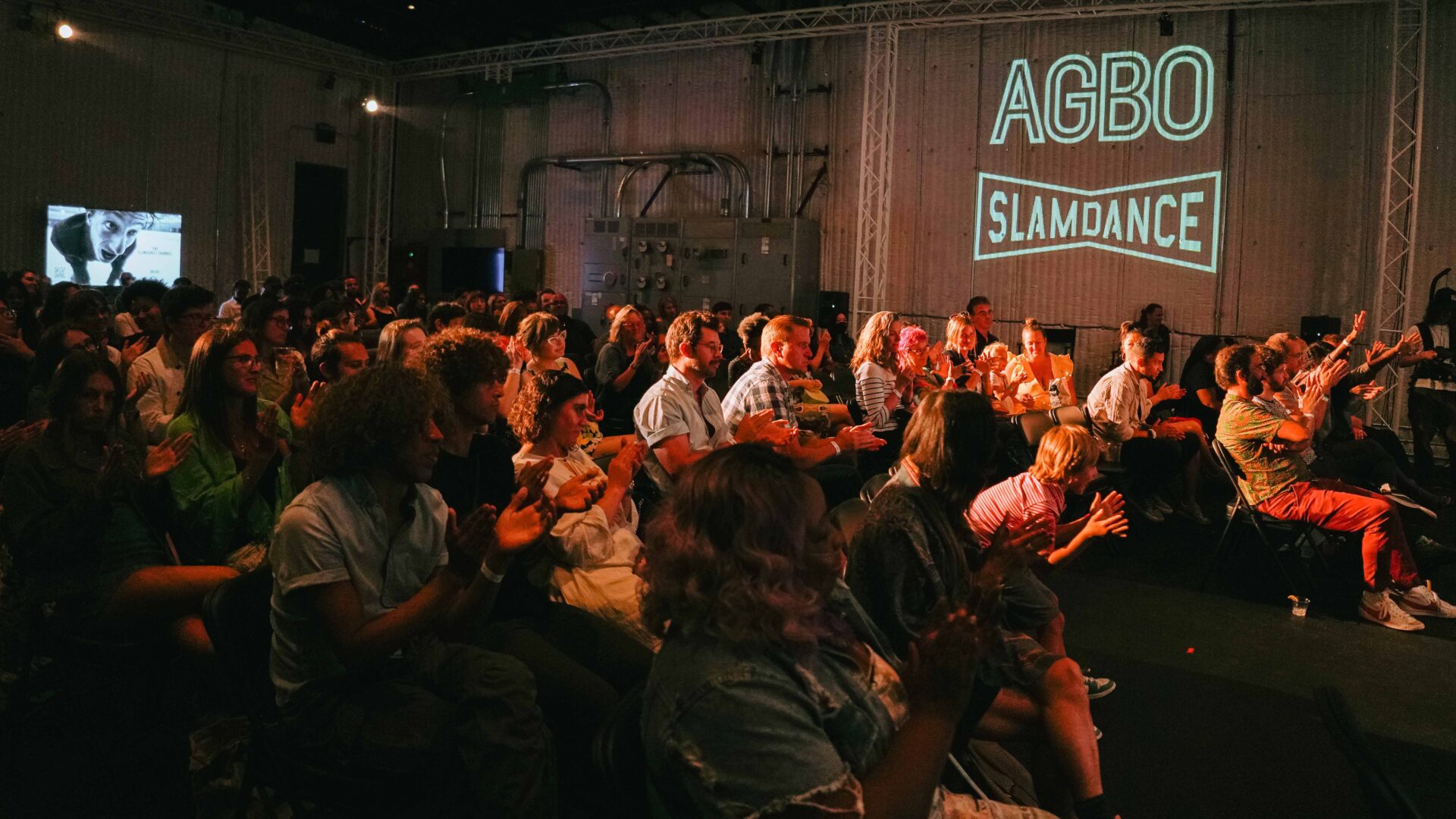 "We had people fly from all corners of the world in order to attend our special day dedicated to screenwriting, The Slamdance Script Shop. The event itself was a huge success, with special thanks to all of our presenters, Unity Coffee, Final Draft, Coverfly, our volunteers and the amazing AGBO staff. With a generous donation from our sponsor, Final Draft we were able to give out 30 copies of Final Draft 12, as well as bags of coffee (from Unity) Oprah style. The day kicked off with a panel moderated by myself with Kris Mercado, Steven Pierce, Zack Sucker and James Allerdyce about defying conventions, challenging the norms, pushing boundaries and becoming a true trailblazer. Then Jamie King, "Jessica Jones" writer and Slamdance reader spoke on the craft of world building, and got the audience writing on the stop with an extremely well-crafted set of exercises. Dekker Dreyer and James Cox taught us the ins and outs of writing for interactive and gaming, and how to navigate writing for experimental media. The day closed with Slamdance reader, screenwriting professor and author, Beverly Neufeld who provided a highly informative (and highly entertaining) guide to getting past the gatekeepers and what it takes to get your scripts noticed. We had amazing coffee flowing from start to finish with the help from our rad coffee sponsor, Unity. Again I personally want to thank everyone that was able to be there that day. You all helped in not only making it extremely special, but such a huge success!" - Anna Lee Lawson / Film Festival & Screenplay Competition Manager
THANK YOU TO OUR ASL INTERPRETERS
SHORTWAVE
Lexi Yorba
Jesus Vedoy
DIG: BRAVE NEW WORLDS
Jesus Vedoy
David Garcia
UNSTOPPABLE
Flo McHenry
Keila Marroquin
SCRIPT WORKSHOPS
Lexi Yourba
David Garcia
Rosie Huante