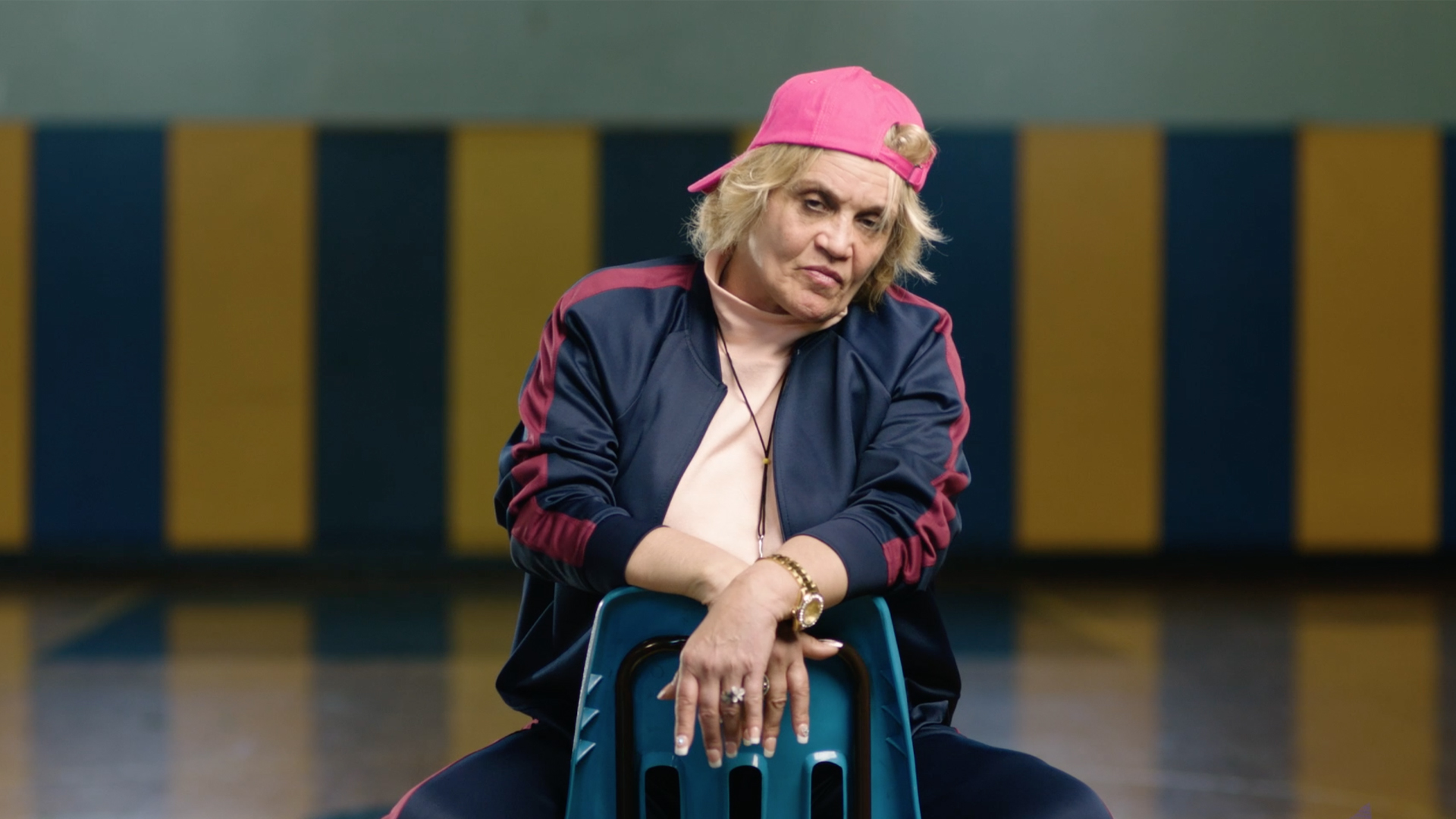 Who's Annie, dir. Sophia Peer — Episodes
We are excited to announce our mind-bending lineup for our 2023 Animated, Experimental, Unstoppable, Narrative, and Documentary Shorts programs as well as the Digital, Interactive and Gaming (DIG) and Episodes lineup. Dedicated to providing accessible programming both in-person and online, the 2023 hybrid festival will return this year with events in Park City and Salt Lake City, Utah from January 20th to 26th and online on the Slamdance Channel from January 23rd to 29th.
"Our short filmmakers have always been at the forefront of innovation and experimentation in independent film, while simultaneously giving a voice to filmmaking communities that are traditionally under-represented. This year's shorts, episodic and DIG lineup is no different, filled with fearless filmmakers who are sure to shape the future of independent storytelling on a global scale," said Festival Producer Michael Morin.
The 2023 festival continues the tradition of pushing the envelope of independent and DIY filmmaking with the addition of 19 Unstoppable Shorts, 11 Animated Shorts, 18 Narrative Shorts, 13 Documentary Shorts, 5 Experimental Shorts, 5 Episodes, and 9 DIG Showcases to the lineup. Exploring themes of grief, religion, cultural roots, memories and more, the films in these programs challenge our current perception of cinema.
"The films in this lineup are wildly unique and they each garnered enthusiastic and unanimous support from our programmers. We formally invite you to have your minds blown," said programmers Lori Felker, Davy Walker and Cherlyn Hsing-Hsin Liu.
In addition to Shorts programming, Slamdance is also announcing Episodes. Returning for its 4th year, the Episodes programming consists of shows that took big risks with their storylines which paid off in unique and entertaining ways. The category showcases episodic work in any style, genre and format intended for broadcast. Slamdance is also bringing back the Digital, Interactive and Gaming (DIG) programming to recognize innovative digital, interactive, and gaming artwork. It is a platform for independent artists who create outside of traditional media to bring their ideas to life in novel and uncompromising ways.
The Unstoppable Shorts program will join the Unstoppable Features program online and also in-person at the Student Union Theater at the University of Utah from January 23rd to 25th. Committed to accessibility, the Unstoppable programs will be free to the public. Now in its 3rd edition, the Unstoppable Program includes a showcase of new films by creators with visible and non-visible disabilities.
All films and projects are once again eligible for the prestigious AGBO Fellowship. Founded by Slamdance alumni Anthony and Joe Russo (AVENGERS: ENDGAME, AVENGERS: INFINITY WAR), the AGBO Fellowship provides a $25,000 cash prize, mentorship from the Russos and their team, and office space, enabling a filmmaker to continue honing their skills and pursuing their craft. The 2022 fellowship was awarded to Ethan Eng for his debut feature THERAPY DOGS.
"We are proud to be returning in 2023 with the AGBO Fellowship, which supports emerging filmmakers through hands-on collaboration and mentorship within our company. Alongside Anthony and Joe, all of us at AGBO remain dedicated to helping new and innovative voices reach their fullest potential through their creative expression, and we look forward to this year's submissions," said Angela Russo-Otstot, Chief Creative Officer.
In-person passes and Slamdance Channel subscriptions for the online festival are now available.
Unstoppable Shorts:
Aleeya - (India, United States)
Director: Nina Mahesh; Screenwriter: Nina Mahesh; Producers: Kavita Hari, Betsey Grupp
Aleeya follows a transgender woman as she embarks on a day long journey to buy a gift for her lover, while attempting to persevere through India's societal inequities and prejudice, as well as the growing rape culture of male youth.
Cast: Nithu RS
A Black Saturday - (United States)
Director: Tori Sampson; Screenwriter: Tori Sampson; Producers: Tari Wariebi, Ned Johnson, Lauren Milan Rausaw
For Nia and Bakari, like Black kids for generations, Saturdays are a rhythmic ritual of obligation and exploration. A Black Saturday is an anthropological love letter to Black people everywhere.
Cast: Chrisette Parkinson, Carter King, Shenika Travis, Michael Oloyede, Capri Sampson
ELSA - (United States)
Director: Cameron S. Mitchell; Screenwriters: Cameron S. Mitchell, Julia Muniz; Producers: Cameron S. Mitchell, Julia Muniz
A Deafblind fencer and author competes in all arenas just for the right to be seen.
Cast: Elsa Sjunneson, Eric Piispanen
Good Grief - (England)
Director: Rob Sharp; Screenwriter: Rob Sharp; Producers: Sophie Black, Rob Sharp, Charlie Clarke
Four mothers experience the agony of child loss in a film that highlights the importance of grief.
Cast: Vicky McClure, Abigail Pidgeon, Bethany Asher, Mercedes Assad, Solaya Sang, Kat Taylor Smith, Jazmin Anthony, Daniel Poppitt
Here Comes Frieda - (United States)
Director: Robin Takao D'Oench; Screenwriter: David Lavine; Producers: Victor Gallo, David Lavine
In a not-so-distant future, a young blind woman seeks to redeem her winning lottery ticket off a desperate and weary planet Earth.
Cast: Ellie Wallwork, Sarita Choudhury, Charlie Romanelli
Charlie and the Hunt - (United States)
Director: Jenn Shaw; Screenwriter: Jenn Shaw; Producers: Jenn Shaw, Anita C M Cal, Dannielle Dormer, Julianne Gabert, Tema Staig, Yj Meira
A young girl goes on a whimsical adventure, and faces her fears while setting out to recover a sentimental family treasure.
Cast: Nifeoluwa Ramroop, Lauren Ridloff, Robert Artz
Christina - (Canada)
Director: Gerald Fantone; Screenwriter: Brooke Banning; Producers: S.W. Jafar, Brooke Banning
A woman with Down syndrome longs for independence from her overprotective mother until an unexpected illness forces her to take on new responsibilities.
Cast: Kimberly Weir, Juno Rinaldi, Imali Perera, Ivan Ossa, Andrew Garcia, Daniel Jun
The Cunning - (United Kingdom)
Director: Alexandra Maher; Screenwriter: Alexandra Maher; Producer: Emory Ruegg
Accused of witchcraft, a mother and daughter hatch an ambitious plan for escape where even the tiniest mistake will result in certain death.
Cast: Gemma Arterton, Bethany Asher, Akiya Henry, Ross Armstrong
Don't Worry About It - (United States)
Director: Melissa Kong; Screenwriter: Melissa Kong; Producers: Melissa Kong, Grace Hahn
After her father's death, a woman in intensive therapy for debilitating contamination OCD must confront his death and her OCD with a totally normal, not weird at all, therapy exercise.
Cast: Hanah Chang, Allyson Womack, Carla DiSilvestro, Jon Hatje, Cooper Hoyt, Susaan Jamshidi, Em Modaff, Keisha Champagne
Inspire Me - (Australia)
Director: Sophie Saville; Screenwriter: Madeleine Stewart; Producer: Rowan Devereux
Determined to become the most inspirational disabled person ever, Madeleine Stewart embarks on a journey to become a Paralympian.
Jenna Has to Live - (United States)
Director: Katie Hopkins; Screenwriter: Katie Hopkins; Producer: Sasja Smith
Jenna has Type 1 Diabetes and is about to be evicted from her apartment. To pay her rent she sells her insulin and rations what remains in increasingly reckless ways. When a well-meaning coworker, Julian, sees too much, Jenna throws up her guard. Can she hide her actions from being judged by Julian, or will her declining health give her away?
Cast: Allison Walsh, Malik Guinn, Megan McGirr, Jason Songer Sr., Kyd Kalin, Elaine Young, Connor Carlson, Tyler Yath
Just Right - (United States)
Director: Camille Wormser; Screenwriter: Camille Wormser; Producers: Drue Robertson, Julia Perl Nelson, Tyler Michael James, Hunter Milano
A peek inside the absurd and whimsical mind of Mel, a woman with severe OCD who just wants to do something new with her day.
Cast: Camille Wormser, Jake Dvorsky, Adam Turney, Sydney Heller, Lukas Ferreira
Millstone - (United States)
Director: Peter Hoffman Kimball; Screenwriter: Peter Hoffman Kimball; Producers: Alan Cameron, Gary Brooks, Peter Kimball
Entirely in American Sign Language and featuring an all-Deaf cast, this is is a dark, emotional thriller about a desperate, grieving couple who think they have found the only therapist who can give them what they want: to make them forget they had ever had a child.
Cast: Daniel Durant, Eddie Buck, Bellamie Bachleda
My Eyes Are Up Here - (United Kingdom)
Director: Nathan Morris; Screenwriters: Aminder Virdee, Arthur Meek; Producers: Katie Dolan, Vanessa Muir, Naomi Wallwork
A disabled woman sets off on a mission to get the morning after pill. The only thing in her way is... everything.
Cast: Jillian Mercado, Ben Cura, Pooky Quesnel, Natalia St John-Porther, Ellie Uragallo, Colin Hoult
Queen Moorea - (United States)
Director: Christine Fugate; Screenwriter: Christine Fugate; Producers: Christine Fugate, James Utt, Eileen Keighley
A spirited Asian American homecoming queen and her friends, all born with genetic conditions, struggle to fulfill their dreams in a world that refuses to accept them for who they are.
Cast: Moorea Howson, Kris Howson, Robert Howson, Jade Howson, Jordan Singer, Arianna Nugent, Mindy Hawlins
Safe as Houses - (Ireland)
Director: Mia Mullarkey; Screenwriter: Sarah Ahern; Producer: Claire McCabe
On a hot summer's day, Aggie, a woman with Down syndrome, offers shelter to a young girl, Lucy, when her home life is not so welcoming.
Cast: Siobhan Loscher, Nova Farrelly, Ali Fox, Terry O'Neill, Jacinta Sheerin
Snail - (Iran)
Director: Aminreza Alimohammadi; Producer: Aminreza Alimohammadi
A mother goes in search of a vocal test for her son.
Cast: Bahareh Nouhian
Susan & Leslie - (United States)
Director: Claire Barnett; Producer: Claire Barnett
A slice-of-life documentary following a visually-impaired married couple as they prepare for a trip to the grocery store.
Cast: Susan Anderson, Leslie Anderson
Teacher of Patience - (United States)
Director: Carmen Vincent; Producers: Carmen Vincent, Heidi Reinberg, Evan Knowles
Over 20 years after Emily Felter is diagnosed with Down syndrome, paramedic (and Emily's father) Tom develops a presentation to share her story with other first responders. As the Felters work to raise disability awareness, they come face-to-face with the struggles and joys of their daily lives.​
Cast: Emily Felter, Tom Felter, Tina Felter, Brian Neuffer, Sarah Norkus, Bryan Norkus, Laurie Perrine, Rob Perrine
Animated Shorts:
Arrest in Flight - (Switzerland)
Director: Adrian Flury; Screenwriter: Adrian Flury; Producer: Adrian Flury
This experiment in film sets the stage for a hitherto unseen magical life form.
Cast: Adrian Flury, Roger Odermatt
Babe Beach - (United States, Croatia)
Director: Ida Lasic
In the span of ten years, a club empire has taken over the small remote Croatian island of Pag.
Cast: Zoran Lasic
Baloney Beacon - (United States)
Director: Max Landman
A godlike alien hungers for exotic delicacies from the deepest reaches space in this stop-motion animated film made entirely with balloons.
Don't Die on Me - (Israel)
Director: Ori Goldberg; Screenwriter: Ori Goldberg; Producer: Ori Goldberg
As asthmatic Matti coughs again, he hears the irritating sentence "Don't die on me". A revolting portrayal of the noisy life inside a malfunctioning body, and the deadly silence that stops it.
Cast: Itamar Shlomo Cohen
Hierophany - (Poland)
Director: Maria Nitek; Screenwriter: Maria Nitek; Producers: Agata Golanska
"Hierophany" is a fantasy about the beginning - of the world? human? myth? religion? culture? - a journey into an imaginary world that does not require unambiguous interpretation.
HORSE - (United States)
Director: Diana Gong
A struggle between inner chaos and reality explodes to create a world of cowboys, horses, and western landscapes.
Hot Dogs! - (United States)
Director: Frank Volk; Screenwriter: Frank Volk; Producer: Frank Volk
A hot dog man has a crisis of faith.
Cast: Frank Volk, Sophia Pultro, Carlos Napoleoni
Juice - (Germany)
Director: Mona Keil; Screenwriters: Mona Keil, Lion Durst; Producer: Isabella Braun
Meaty creatures must learn to share their juicy world with the pesky little bugs, before they run dry.
PLSTC - (France)
Director: Laen Sanches; Screenwriter: Laen Sanches; Producer: Laen Sanches
Welcome to the world of PLSTC, an undersea dystopia that submerges you in the disturbing reality of plastic pollution in our oceans. Through a series of graphically confronting AI-generated and hand-composited images of ocean creatures, this experimental animated film confronts you with the devastating consequences of our habits on marine life, and leaves you gasping for breath.
Silver Cave - (China)
Director: Caibei Cai; Screenwriter: Caibei Cai; Producer: Shoulu Si
Hunting an animal, taking a picture, watching a video - these three are all about capture: to find, to chase, to catch.
To Fall - (Germany)
Director: Ivan Morales Jr.; Screenwriter: Ivan Morales Jr.; Producer: Ivan Morales Jr.
After an accident, a man is forced to live with limitations. His everyday life is characterized by isolation and strenuous rehabilitation. A reflection on falling and getting up.
Documentary Shorts:
Addresses - (Costa Rica)
Directors: María Luisa Santos and Carlo Nasisse; Screenwriters: María Luisa Santos and Carlo Nasisse; Producer: Natalia Quesada
In a country with no numerical system for street addresses, a young woman explores the unique system that has taken hold, and the prospect of its rapid disappearance.
Cast: Ligia Kopper, Andrés Fernández, Franklyn Meyers, Johnatan Rojas
Bagdad on Fire - (Norway)
Director: Karrar Al-Azzawi; Screenwriter: Karrar Al-Azzawi; Producers: Jørgen Lorentzen and Nefise Özkal Lorentzen
Tiba joins Iraq's youth protests where she braves bullets and tear gas with the hope of reclaiming her nation.
Cast: Tiba Fadhil, Yousif Satar, Khader Elias Tah
Busy - (Norway)
Director: Jan Otto Ertesvåg; Screenwriter: Jan Otto Ertesvåg; Producer: Jan Otto Ertesvåg
At first glance, beach snails and humans are nothing alike, but if we look more closely, we might find we share more than meets the eye.
Diomysus - (Wales, UK)
Director: Emily Morus-Jonez; Screenwriter: Emily Morus-Jonez; Producers: Sara Allen, Grant Black, Martin Smith, Stephen James-Yeoman
A comedy-documenatary where a group of mice (voiced by members of the UK polyamorous community who's identities are masked using puppetry) discuss their experiences of polyamory. Diomysus asks the question - are we (the audience) more open to taboo ideas if unconscious bias is eliminated?
Cast: Ruby Rare, Laura Bacon, Robbie Bellekom, Emily Morus-Jones
Fearless Juan - (Colombia)
Director: David Pombo; Screenwriter: David Pombo; Producer: Adriana Aparicio
After dedicating his whole life to pleasing the dead, Juancho starts to worry about when his time will come.
Cast: Juan de Dios López, Rafael Cataño
Fleshwork - (United States)
Director: Lydia Cornett; Producers: Lydia Cornett, Julia Matejcek
At a butcher shop in Jeromesville, Ohio, four meat processors situate their labor within their own minds and bodies.
A Guide For When Immigrants Become Ancestors - (United States)
Director: Iliana Garcia
An intimate portrait of a fourth-generation Mexican Filipino American™, as they navigate what it means to inherit an identity rooted in cultural memory.
Moomin - (United States, Israel)
Director: Zach Dorn
A filmmaker attempts to fulfill a promise to an ex-girlfriend in Canada.
Strange Beasts - (Australia)
Director: Darcy Prendergast; Producer: Rachel Gilkison
Strange Beasts is a look at the meteoric rise and fall of the Bacchus Marsh Lion Safari, as told through the eyes of Ron Prendergast; a then 18 year old big cat keeper. From its initial boom, to its protracted closure, the park remains shrouded in mystery and folklore. Until now.
Subway Stops - (United States)
Director: Joe Zakko; Screenwriter: Joe Zakko; Producer: Joe Zakko
A cinematic experience of the New York subways, featuring the commuters, panhandlers, and performers passing through.
Slower Animals - (United States)
Director: John C Kelley; Screenwriter: John C Kelley; Producer: John C Kelley
While aimlessly following a winter goose migration across the American south, a professor slips in and out of childhood memories that all surround a forgotten trauma. This short animated film explores the ways we are shaped; both by what we remember and what we forget.
Cast: John C Kelley
The Unicorn in Snow Pants Suddenly Ran Off - (Germany)
Director: Philipp Schaeffer; Producer: Fabian Leonhardt
"The Unicorn in Snow Pants Suddenly Ran Off" explores the clash between blind children's play worlds and the reality they live in. The film introduces us to three confident children, for whom blindness is not a disability but rather a different kind of normal. Unicorns, call centers and flying grandfathers each play a role.
Cast: Mia and Max Sutter; Julian Schiering; Quirin Prinz; Martha, Maike and Karl Limprecht
When The LAPD Blows Up Your Neighborhood - (United States)
Director: Nathan Truesdell; Producers: Will Lennon, Kat Nguyen
Tensions rise on a busy street as news organizations and local residents witness an extremely volatile situation turn into a literal powder keg.
Experimental Shorts:
ARIBADA - (Colombia, Germany)
Directors: Simon(e) Jaikiriuma Paetau & Natalia Escobar in collaboration with Zamanta Enevia; Screenwriters: Friederike Hirz in collaboration with "Las Traviesas"; Producers: Simon(e) Jaikiriuma Paetau & Natalia Escobar
The magical, the dreamlike and the performative coexist in the world of Las Traviesas, a group of indigenous transwomen in the Colombia Coffee Region.
Cast: Doris Nembaregama, Zamanta Enevia, Beroniga Tascon, Emilce Aizama, Andrea Nembaregama, Katy Tuave, Bella Wuasorna
Ele of the Dark - (United States)
Director: Yace Sula; Screenwriter: Yace Sula; Producer: Yace Sula
A nonbinary visual artist contemplates their relationship with darkness and its hold on their complexion, trauma and queerness.
Cast: Yace Sula
Grillz & Mirrors - (United States)
Director: Michael U. Olowu; Screenwriter: Michael U. Olowu; Producer: Michael U. Olowu
A short film based on attraction of grillz which characters are shown adapting to the powers the piece comes with and what they portray them as in their reality.
Cast: Michael U. Olowu
Reality is Not Good Enough - (United States)
Director: Rashayla Marie Brown; Screenwriter: Rashayla Marie Brown; Producer: Jennifer Reeder
Much to her daughter's chagrin, a glamorous biracial adoptee from a Trumpmaniac family dreams of being a reality TV star, no matter how exploited she might become.
Cast: Ann-Marie Hammond, Abrina Marie Matthews, Angell Marie Williams, Bailey Marie Brown, Parker Marie Williams, Rashayla Marie Brown
Red Threads (我很爱你) - (China, United States)
Director: Yuchi Ma; Screenwriter: Yuchi Ma; Producer: Aina Feng
Red Threads (我很爱你)is a single-channel video that navigates the simultaneous existence of filial love and filial guilt within the experience of a Chinese Parachute Kid, utilizing a combination of live-action cinema, Sims 4 Machinima, Browser / Webcam aesthetic as well as lots of sewing, redness, and thread!
Cast: Susan Kai Lin
Episodes:
Honeycomb - (United States)
Director: Sam Roden; Screenwriters: Joseph L. Roberts, Sam Roden; Producers: Elisha Yaffe, Sam Roden, Joseph L. Roberts
After a string of losses, an over-the-hill indie rocker must give everything to keep his dreams of stardom alive.
Cast: Baron Vaughn, Hayley Marie Norman, Joseph L. Roberts, Charlyne Yi, Joe Mande, Bella Shepard
Off Fairfax - (United States)
Director: Erica Eng; Screenwriter: Rell Battle; Producers: Rell Battle, Erica Eng, Robert Louis Love, Terrence Battle
Three friends who work at a strip mall solve black conspiracies during work hours.
Cast: Rell Battle, Teddy Ray, Michael Blaustein
Momo Local - (France)
Director: Alexia Colette; Screenwriter: Alexia Colette
When a schizophrenic dumpster diver in Paris meets a female artist inspired by waste, he must overcome his greatest fear as the world around him turns pink.
Palookaville - (United States)
Director: Theodore Collatos; Screenwriter: Theodore Collatos; Producers: Matt Grady, Theodore Collatos, Carolina Monnerat, Sharon McMorrow, James Kimberling
Things get turned upside down when JoJo wakes up believing he's Joe Louis - one of boxing's greatest legends…
Cast: Howard Lester, Franqi French, Edy Modica, Karl Jacob, Matt Hopkins, Patrick Heraghty, Mike Swift
Who's Annie? - (United States)
Director: Sophia Peer; Screenwriters: Sophia Peer, Annie Sicherman; Producers: Ryan Cunningham, Randy Stulberg, Manon Carrié, Heather Brown, Kari Dexter, Samin Pogoff
After jail-time, 12-step programs and five marriages, Annie begins her acting career in her mid-fifties with the help of a young director she met at a Burger King in Queens.
Cast: Annie Pisapia, Sophia Peer, Sofia Dobrushin, Lily Marotta, Milly Tamarez, Neal Medlyn, Maria Milian, Nick Pinkerton
DIG (Digital, Interactive and Gaming):
H-Squad: The Interactive Experience - (United States)
Director: Aaron David Harris
A father attempts to teach his five children the value of using their superhuman abilities more responsibly.
Brainstream - (Canada)
Director: Caroline Robert; Screenwriter: Caroline Robert; Producers: Marie-Pier Gauthier, Isabelle Repelin
A sensitive and humorous interactive animated film in which you give a brain massage to a young girl who is live-streaming her thoughts.
Cast: Sophie Shields-Rivard, Julianne Côté
Unframed: Hand Puppets, Paul Klee - (Switzerland)
Director: Martin Charrière; Screenwriter: Antoine Débois; Producers: Yves Demay, Gregory Catella
Let the puppets created by Paul Klee tell you the story of their maker in this unique VR puppet theater designed only with Klee's textures.
Cast: Pascal Bernheim
Kin_ - (Germany)
Director: Charlotte Triebus; Producer: MIREVI
A Performative Dance Piece In Augmented Reality To Experience Wherever You Are
Beyond the Milky Way - (Australia)
Director: Briege Whitehead; Screenwriter: Briege Whitehead; Producers: Jess Black, Briege Whitehead
Experience the greatest scientific endeavour in history as you step onto Australia's future site for the incredible SKA telescope and journey to the edges of the Universe in spectacular 360° virtual reality.
The Calling - A Musical VR Experience - (United States)
Director: Alani iLongwe; Screenwriters: Alani iLongwe (screenplay), Ren Casey (music, lyrics); Producers: Christopher Sepulveda, Tim Kashani, Pamela Winslow Kashani, Alani iLongwe, Ren Casey
March with Dr. King and the thousands who journeyed to Memphis in support of the 1300 sanitation workers, striking for higher wages and better working conditions in this musical VR experience to find your Calling.
Cast: Arthur Romeo, Sterling Sulieman, Nicole Cowans, Jaquita Ta'le
GLITCHBODIES - (Austria)
Director: Rebecca Merlic; Screenwriters: Rebecca Merlic, Hannah Jöchl; Producer: Rebecca Merlic
Portals of Glitch suck you into an eternal loop of experiencing bodies, minds and thoughts to respond to the very male-dominated world of video games by creating an interactive digital space, a fluid journey through infinite individuality, gender and realities.
Cast: Monika Freinberger, Alexandru Cosarca ,Judith Kranz, Marie-Luise Lehner, KLITCLIQUE, ANTHEA, Annemarie Arzberger, Nuh Peace
Galup VR Experience - (Australia)
Directors: Ian Wilkes & Poppy van Oorde-Grainger with an oral history from Doolann-Leisha Eatts; Screenwriters: Ian Wilkes, Poppy van Oorde-Grainger, Doolann-Leisha Eatts; Producer: Poppy van Oorde-Grainger
Aboriginal Elder Doolann-Leisha Eatts shares a buried history hidden for nearly 200 years.
Cast: Doolann-Leisha Eatts, Ian Wilkes, Calven Wilkes, Glenda Kickett, Della Rae Morrison, Nigel Wilkes
Deep Sophia - (United States)
Director: Yvette Granata; Producer: Yvette Granata
Facial recognition technology morphs the Sophia Robot's face with the faces of actors from film close-ups, producing a strange journey through uncanny emotional expressions.
Narrative Shorts:
Alegrías Riojanas - (Spain)
Director: Velasco Broca; Screenwriters: Velasco Broca, Lucía Moreno; Producer: Eduardo Carneros
An ophthalmologist's confession gets interrupted when the priest who was attending him leaves in an emergency. On his way to his office, he is fatally run over by a car, and his immortal soul is thrown into a purgatory populated by grotesque creatures.
Cast: Juan Antonio Herreruela, Ramon Churruca, Fernando Moreno, Rafael Alberola, Barbara Mingo, Jose Luis Pérez Santiago, Nerea Revilla
Cold & Sara - (United States)
Director: Brenna Power; Screenwriter: Brenna Power; Producers: Brenna Power, Larson Rainier, Dawson Doupé, Ryder Doupé, Todd Tapper
Emmy mourns a tragic loss while her sister, Sara, relentlessly tries to lighten her spirits in this increasingly frenetic interaction between real life siblings.
Cast: Brenna Power, Sophia Power
Endless Sea - (United States)
Director: Sam Shainberg; Screenwriter: Sam Shainberg; Producer: Rachel Walden
Carol finds out that her heart medication has tripled in price, sending her on a desperate mission to find a solution, but when none presents itself she is forced to fight back.
Cast: Brenda Cullerton, Jaques Sebag, Johnny Zito, Iskandar Dridi, Basil Constable, Thomas Philip O'Neill, Nora Deligter, Alexandra Templer
East End - (United States)
Director: Grant Curatola; Screenwriters: Grant Curatola, Dan Roe; Producers: Ben Cohen, Patrick Donovan
The sordid details of a vicious crime are recounted and remixed through the rumor mill of a community gripped by paranoid fear and morbid curiosity. Its soundtrack peppered with iconic horror cues, this round of broken telephone crescendos to an ominous and disarming note.
Cast: Carlotta Kohl, Adea Lennox, Jack Irv, Ben Irving, Christian Scheider, Yung Jake, Tripoli Patterson
Gary Screams for You - (United States)
Director: Cody McGlashan, Nolan Sordyl; Screenwriter: Cody McGlashan; Producers: Cody McGlashan, Lejla Subasic, Michael A. Stock
A campus security guard discovers his wildest side when his obsession with a viral video prompts some very unruly behavior.
Cast: Cody McGlashan, Rachel Blakes, Michael A. Stock, T.J. Thomas
Gwendoline - (France)
Director: Joaquim Bayle; Screenwriter: Joaquim Bayle; Producer: Alix
Roaming the streets on their tandem bike, young French post-punk musicians Micka and Pierre hit the road in a desperate search for some fans.
Cast: Gwendoline, Tristan Tenardier, Jean-Louis Sbille, Dominique Boissel, Fabrice Colson, Jo Bulitt, Alix Malnati
Hubbards - (United States)
Director: Kevin Ralston; Screenwriter: Kevin Ralston; Producer: Kevin Ralston
An intense dive into the world of one man and his quest.
Cast: Kevin Ralston, Steven Cohen
Noizu - Summer 91 (Looking Back) - (Austria, United Kingdom)
Director: Rupert Hoeller
A man discovers movement in everyday objects and starts dancing his way across the city.
Cast: Somsamay Raxajack
Playdate - (United States)
Director: Cory Snearowski; Screenwriter: Cory Snearowski
It's a play date.
Cast: Rocco Barbera, Dan Gilman, Ed O'Hare, Sydney Olshan
It's Time You Died Already - (Israel)
Director: Hadar Morag; Screenwriter: Hadar Morag; Producers: Shira Hochman, Kobi Mizrahi, Hadar Morag
Confined by the walls of their home, Evie and her mother Rose, struggle with the inevitable presence of an uninvited tenant.
Cast: Eve Handelman, Rose Handelman
Jimmy Boden - (United States)
Director: Christopher Pickering; Screenwriter: Christopher Pickering; Producers: Cole Sanchez, Nathan Xia
What has led this imprisoned government asset to reach his breaking point?
Cast: Andrew Simmons, Luis Ochoa, Matthew Rhodes, Jack Balta, Jacob Staudenmaier
The Laughing Woo Woo - (United States/Egypt)
Director: Amir Youssef; Screenwriter: Amir Youssef; Producers: Amir Youssef, Andrew Wagner, Art Gallery.
Set in San Francisco during the 2011 Arab Spring, a lonesome Egyptian asylee battles his bizarre misfortunes to follow immigration procedures.
Cast: Pegasus Ghobreal, Gareth Williams, Carlos Diego Mendoza
Lollygag - (United States)
Director: Tij D'oyen; Screenwriter: Tij D'oyen; Producers: Cameron Morton, Tij D'oyen
A woman recounts her sensual yet macabre memory about the boy next door.
Cast: Isaac Powell, Gaby Slape
Mahogany Drive - (United States)
Director: Jerah Milligan; Screenwriters: James Carr, James III, Jonathan Braylock, Jerah Milligan; Producers: Andrew Carlberg, Blaine Morris, James Carr, Jerah Milligan
Three Black men on vacay soon realize the house that they're staying in is killing white women!
Cast: James III, Jonathan Braylock, Jerah Milligan, Addie Weyrich, Tessa Hersh, Olivia Wendt-Fijal, Jana Miley, Margaux Calla Susi
Our Males and Females - (Jordan)
Director: Ahmad Alyaseer; Screenwriters: Ahmad Alyaseer, Rana Alyaseer; Producers: Mais Salman, Ahmad Alyaseer
A father and mother are faced with the painful task of washing their deceased transgender daughter, but when no one agrees to wash her, how far is the father willing to go to make sure his "son" is washed?
Cast: Kamel El Basha, Shafiqa Tall
The Sidewalk Artist - (United States)
Directors: David Velez & Brandon Rivera; Screenwriters: David Velez & Brandon Rivera
A documentary film crew follows a contractor who leaves his mark on concrete sites throughout a North Texas town.
Cast: Juan Manuel Portillo Beatus
Stalled - (United States)
Director: Eric Rich; Screenwriters: Brett Osinoff, Eric Rich; Producers: Eric Rich, Brett Osinoff
A man spirals into insanity after a child crawls into his bathroom stall and refuses to leave.
Cast: Langston Fishburne, Asher Morrissette
Tooth - (United States)
Director: Jillian Corsie; Screenwriter: Katie Gault; Producer: Vincent DeLuca
Fed up with decades of abuse from forced perfection, a TOOTH takes matters into its own hands, launching a full scale attack.
Cast: Janine Peck
Visiting Day - (Cuba, Columbia)
Director: Diego F. Rodríguez Ocampo; Screenwriter: Diego F. Rodríguez Ocampo; Producer: Ana Maria Pulido
Jose tries his best to adapt to his father's home, where he visits every other week.
Cast: Marlon Casas Porto, Ronaldo Montero Delgado, Mateo Menéndez, Eros de la Puente, Edel González Govea, Yenisse Soria Serrate
The Windmill of Death - (Portugal)
Director: George Daniell
The road was open, they turned right.
Cast: Frederick Douglas, Markus Treppo, Renato Unterberg
Write a Song About Heartache - (United States)
Director: Jonny Look; Screenwriter: Jonny Look; Producer: Elisha Yaffe, Brain Dead Studios
A musician under the gun to churn out a hit runs his muse ragged, draining him of every lyric he's got no matter the cost.
Cast: Whitmer Thomas, Mac DeMarco, Steve Hernandez